"A herniated disc is a secondary manifestation of compression and dehydration of the disc and spinal column."
- Dr. Henning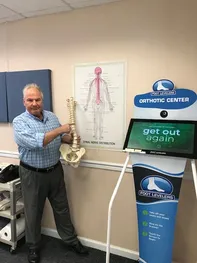 Dr. Gunnar M. Henning has been serving the people of Warren and Hunterdon Counties since 1982.
He graduated from Los Angeles College of Chiropractic, and Southern California University of Health Sciences.
FEEL BETTER TODAY!

Pain Relief for Neck and Lower Back
Sciatica
Herniated
Ruptured
Bulging Disc
Stenosis
Spinal Decompression
Laser Disc Therapy
Corrective Care
10 Reasons to Choose Dr. Gunnar Henning

Experience: Dr. Gunnar Henning has helped literally thousands of patients feel better since 1982.
Same Day Appointments: When you are in pain you don't want to wait. Dr. Henning can see you on the same day in most cases.
Unique Technique: Dr. Henning targets his treatment to the cause of the problem to provide relief and correction of your condition, resulting in faster recovering time.
In-Network Provider on Most Insurance Plans. This means you pay less per visit for excellent care.
Technology: Spinal Decompression, Laser Light Therapy, and Cox Flexion distraction technique for the treatment of herniated & degenerative discs.
Payment Convenience: Most major credit cards are accepted. Call us and we will tell you what your costs will be before your visit.
Flexible Hours: Evening and emergency hours available.
Easy to Find: Located at 35 Highway 31, Flemington, NJ 08822
Easy to get In and Out: Your time is important. Dr. Henning's is always respectful of your time and works to get you treated and on your way quickly.
Care and Concern: Your health and well being are Dr. Henning's first priority. You will experience his warm, friendly manner and appreciate how he treats you like a person not a number. There is never any pressure for treatment you don't need.
Stop the Pain!
Headaches? Backaches? Neck Pain? Leg Pain? Fatigue? Joint Stiffness? Numbness or tingling? If you suffer from any of these symptoms, your body is trying to tell you that something is wrong and that it wants relief. If you've tried drug therapy and the relief was only temporary, maybe it's time to try the personal touch of chiropractic care.
At Gunnar M. Henning of Hunterdon, New Jersey our focus is the patient and our commitment is to finding the root cause of their pain, not just treating the symptoms. We are dedicated to listening to our patients, understanding their concerns, and providing treatments to get them well and guidance to help them stay well. We treat:
Neck, back, Arm & Leg Pain
Migraines & Headaches
Arthritis
Whiplash
Slipped or Herniated Discs
Your Source for Natural Healing
Chiropractic care is based upon the philosophy that the body has the ability to heal itself naturally through unrestricted communication between the brain, the spinal cord and nervous system, and all areas of the body. At Gunnar M. Henning of Hunterdon, New Jersey our focus is the health and healing of the total body. Our goal is finding the root cause of each patient's symptoms. Our commitment is to delivering gentle, natural treatments to alleviate the pain and restore the balances that leads to optimum health and well being. We treat:
Numbness & Tingling
Fatigue
Neck, Back, Arm & leg Pain
Migraines & Headaches
Joint Stiffness
Your Wellness Solution